BY CATHERINE SHERMAN | Original Article, Zillow.com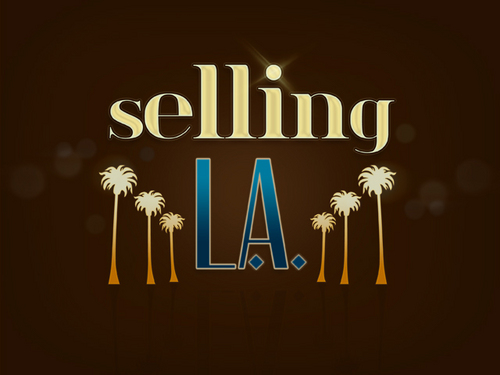 There's a lot to consider when deciding to air your personal life on reality TV. And when it's your business in the spotlight, there's even more at stake. But for real estate agents Kofi Natai Nartey and Katy Landrum, there was more to gain than lose from joining the cast of HGTV's "Selling LA."
There's a lot to consider when deciding to air your personal life on reality TV. And when it's your business in the spotlight, there's even more at stake. But for real estate agents Kofi Natei Nartey and Katy Landrum, there was more to gain than lose from joining the cast of HGTV's "Selling LA."
As the director of The Agency's Sports & Entertainment Division serving high-profile athletes and celebs, Nartey saw "Selling LA" as an opportunity to show a more human side of his Hollywood clients.
Landrum is a real estate agent primarily serving West Los Angeles. She's had a lot of fun — and laughs — with her clients on the show, learning how to do her day job in front of the camera.
We spoke with Nartey and Landrum to learn more about their experiences behind the scenes of "Selling LA." Here's what they had to say.
Zillow: What's it like being on a reality TV show? Is there a lot of drama?
Nartey: There's not a lot of drama. That's part of why I agreed to be on the show. With reality TV, it can hurt or benefit your business. On "Selling LA," the drama in the show is what we are experiencing in real life. For example, if we are facing a deadline to get a property sold or a fire-drill during a sale — it's not fabricated.
Landrum: The whole experience has been fun and challenging. Having no prior camera experience, it was hard to act like completely natural like no cameras were around. But I have found it easier as I've done more episodes.
Zillow: Does being part of the cast affect your day-to-day job? If so, how?
Nartey: Sometimes for reality TV, it's "scripted reality" if you will. But on "Selling LA," if I don't have a property to sell, we are not shooting. So it's done in real time. When I have something scheduled, I let them know and we coordinate the cameras around that. It can be fun; it can also be time-consuming.
Zillow: What's so different about selling Los Angeles real estate that makes it entertaining for television?
Nartey: The L.A. market offers a unique variety of homes and neighborhoods. It's like Disneyland with Fantasy Land, Frontier Land, etc. Los Angeles has so many pockets. And within those mini markets, some neighborhoods have traditional Spanish homes, others have mainly Craftsmans, and Hollywood Hills has a lot of modern homes. I think this offers enough variety to do season after season.
Landrum: The scenery and homes here are so unique to the rest of the country! I say to myself on a daily basis how lucky I am to live here … there is nowhere better. Having grown up in Seattle, I truly appreciate the clear blue skies appearing on a daily basis.
Nartey: The show also offers a glimpse into ultra-luxurious homes — we're talking $20 million-plus.
Zillow: How do your clients feel about the show?
Landrum: Fortunately, my clients have all been very cool with being on the show. My episode with the fabulous interior designers Chris Barrett and Jenika Kurtz was the best! We laughed for hours and made fun of each other for stupid words and things we said. Then, we all watched it together and laughed the entire time. Best experience ever! So fun. I'll never forget it and will have the video forever to go back and watch.
Nartey: Clients have opted to participate and usually enjoy the process. Life brings stress anyway and we don't bring additional stress. And, if there is something my clients want to showcase — something about their own lives beyond being a celebrity or athlete — it's an opportunity. Maybe they want to promote a charity, for example.
Zillow: How do you choose the homes to be on the show?
Nartey: It's sort of a recipe: a great property, an interesting client or story. Earlier seasons were primarily about the properties, but now they want interesting stories of individuals or how they handle selling one of their properties.
Landrum: I choose properties that I like personally and go from there.
Nartey: Also, I only pick people that actually want to do the show. Some clients don't want to be on reality TV, and I respect that.
Zillow: What have you learned from being on "Selling LA"?
Landrum: I have learned that when opportunities are presented in your life, you have to take them with no regrets. You can't take yourself too seriously and just have fun everyday because life is too short not to enjoy the ride.
Nartey: It's all in good fun. I love seeing my clients enjoy the process and capture those moments where we have a victory. I get asked if the show actually helps my clients, and yes, the show is definitely beneficial. For my clients selling properties, it gives them additional exposure. Some stories will show homes that don't sell, but once the show airs for a national audience, it generates a huge bounce in the number of people viewing that listing.